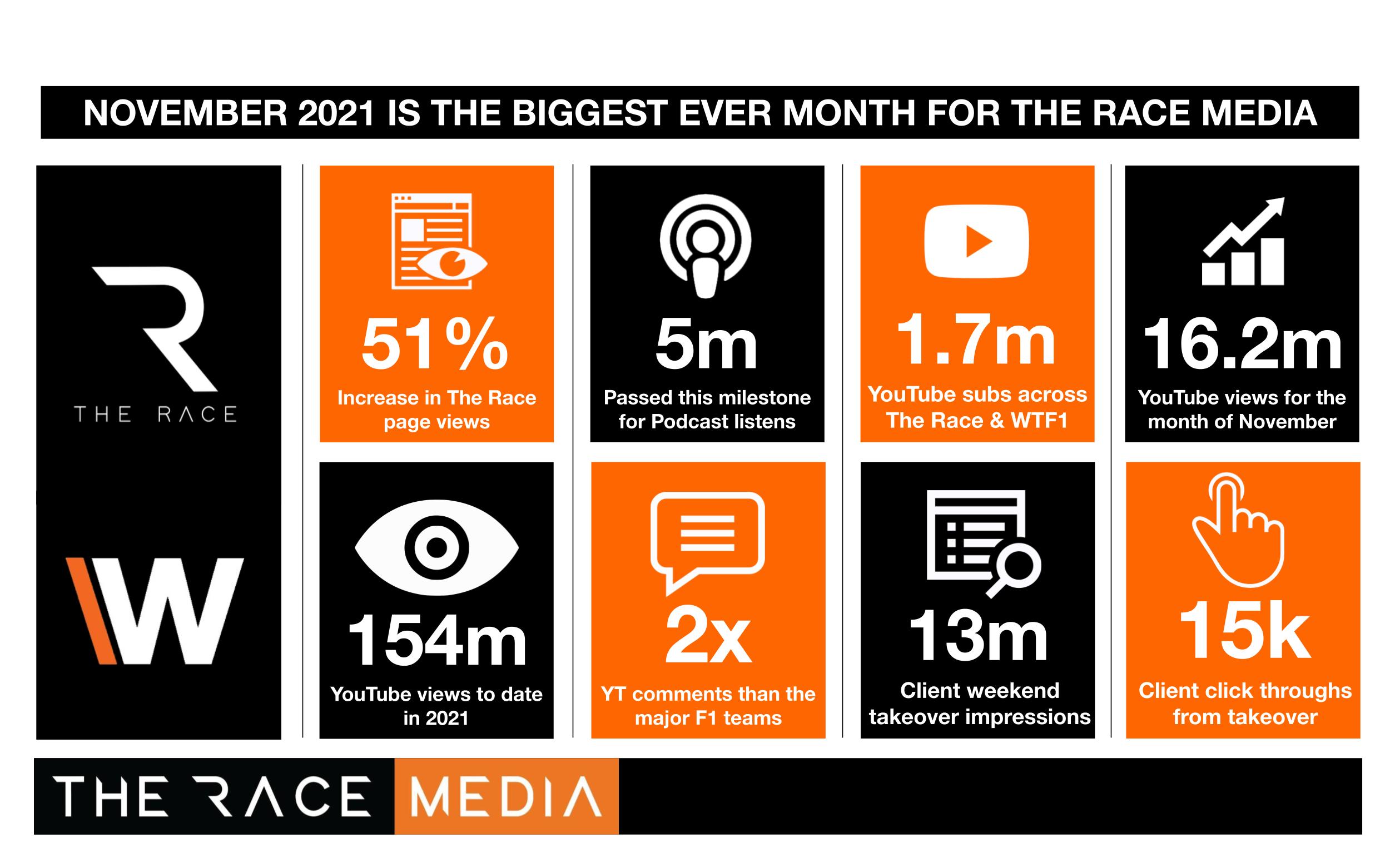 Five million podcast listens for The Race
1.7 million YouTube subscribers for WTF1 and the Race
16.2 million YouTube views for November – 65 percent bigger than closest rivals
New 'weekend takeover' platform overdelivering for partners
LONDON, UK (Wednesday, December 1, 2021) – As the F1 season comes to its conclusion the interest for fans is exploding, and The Race Media are amongst the big beneficiaries.
Having been leaders on YouTube for motorsport content all year, The Race Media has extended the gap to other independent motorsport media brands. It has hit 1.7 million subscribers (added more tha half a million to date this year) and 153.7 million views in 2021 – while attracting more than 358k YouTube comments – that is more than double what Mercedes, Red Bull, McLaren, Ferrari, and Aston Martin F1 teams have collectively received for the entire year.
The Race Media prides itself on ensuring content produced will be relevant for the audience and achieve industry-leading views and engagement.
But it's not just eyes on The Race Media, but the all-important podcast market has seen both WTF1 and The Race hit record levels of listens. The Race passed the five million listen/download benchmark in November while WTF1 hit 4.5 million mark over the same period.
As The Race Media ends only its second season in existence, the roll call of partners continues to grow rapidly. A number of brands have taken advantage of the new 'Weekend Takeover' platform with unprecedented numbers delivered across video, audio, social, and dot coms.
The most recent weekend recorded 13 million impressions on The-Race.com and WTF1.com and an astonishing 15,000 click-throughs to the partner's site.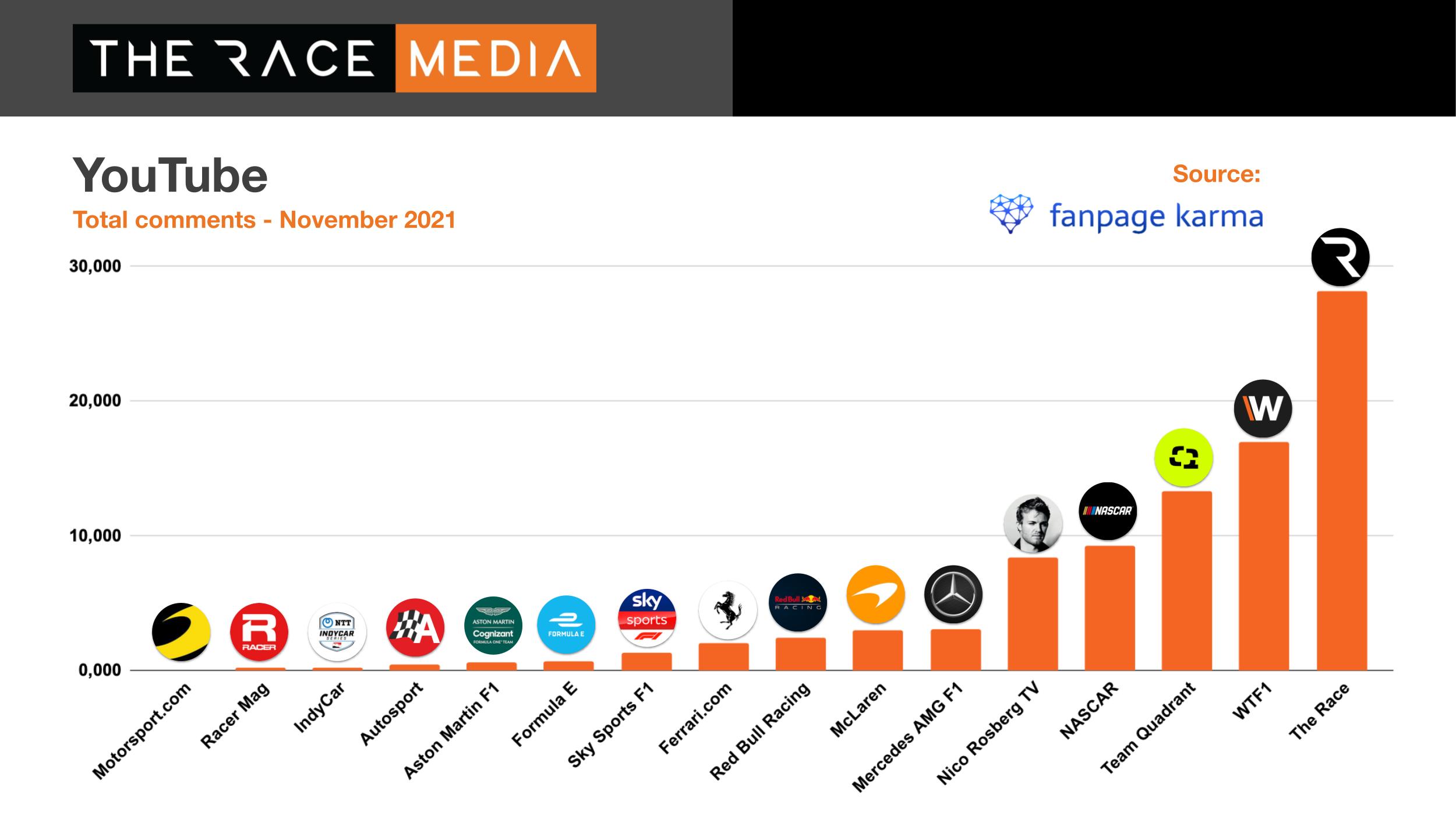 "There is a lot of Formula 1 content produced by brands around the paddock, but the secret to The Race and WTF1's success is creating 'infotainment' rather than 'informercials'," said The Race Media co-founder and COO, Andrew van de Burgt.
"We are able to partner with brands to align with that content and provide guaranteed views. Nobody wants to watch an F1 'infomercial,' but we have firmly established our YouTube channels as the home where fans first go to find out the latest news."
Huge increases in interest for partnerships are growing for 2022 to add to those delivered in 2021 for DHL, Codemasters, Elgato, Qatar GP, Saudi GP, F1 Authentics, Fanatec, VELO, BenQ, Logitech, Draft Kings, NEOM, Brembo, F1TV, Heineken and Red Bull Racing.
"It's been an enjoyable year working with so many active partners in 2021. These brands have bought into the value of the super-fan audience and recognise our expertise and clear values in speaking to them," said The Race Media's Head of Digital and Strategic Partnerships, Matthew Witham.
"We create an honest, relevant narrative alongside engaging content for our partners. This builds a meaningful relationship with a passionate audience of motor racing fans."
The Race Media Limited brings together some of the finest content creators in motorsport to tell engaging and inspiring stories. The Race super serves the 'super fan' with expert analysis of Formula 1, MotoGP, Formula E, IndyCar and more. WTF1 speaks as the voice of the fan, not the sport – taking a sideways look at the world of F1, creating content that plays perfectly with the "Drive to Survive" generation of new fans.