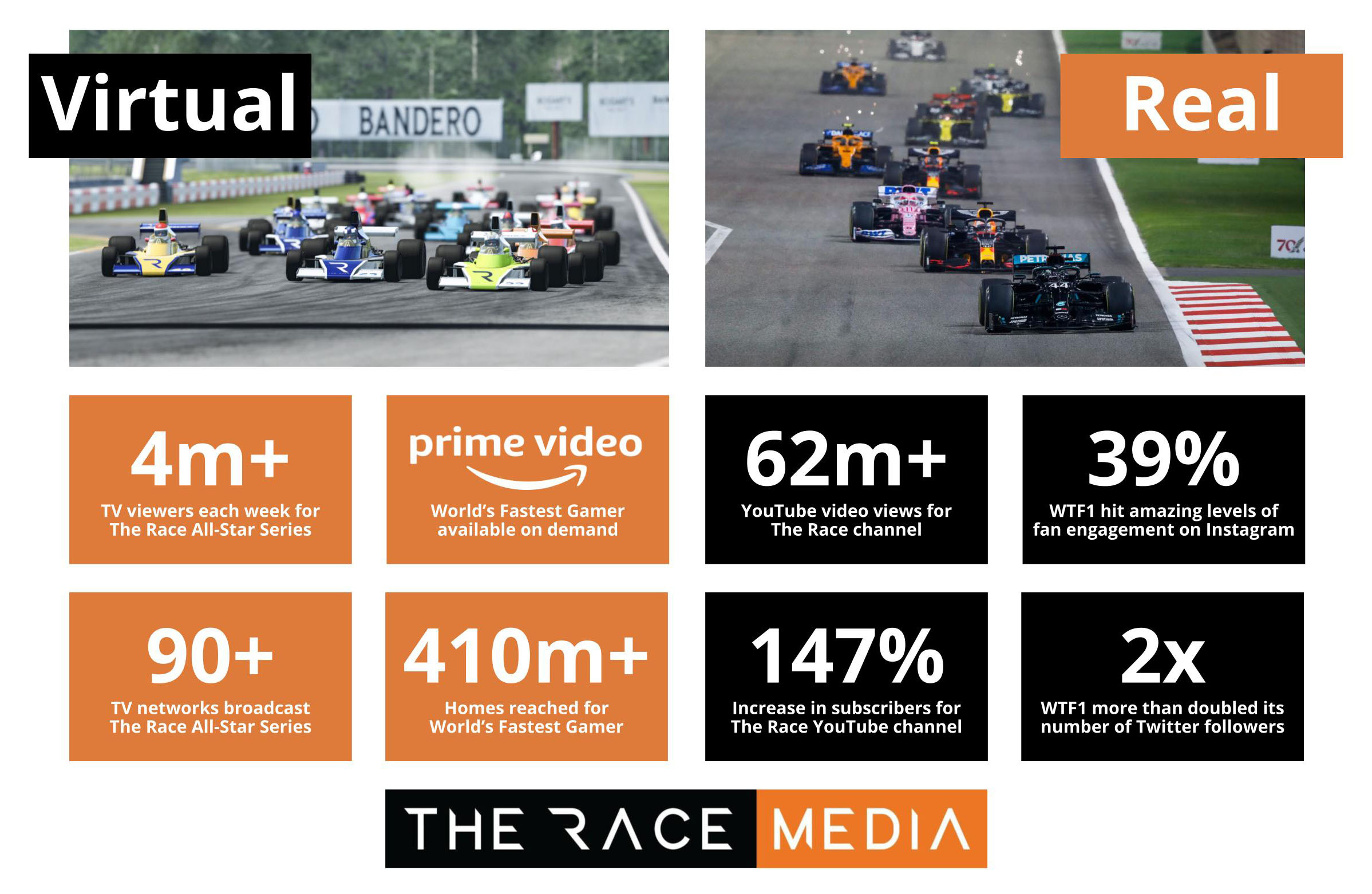 At The Race Media, we have a foot in each camp and therefore can confidently say … BOTH.
Yes, The Race made its mark with the All-Star Series, particularly the Legends Trophy races featuring actual Legends such as Mario Andretti, Emerson Fittipaldi, and Fernando Alonso. Over 11 broadcast weekends, we had four million-plus viewers each week on television via 90+ networks, including ESPN and Eurosport. We also reached millions of more fans on YouTube – both live and on-demand.
And yes, not only did World's Fastest Gamer reach more than 410 million homes – we capped off the year with both the original four-part #WFG1 documentary series and the six-part #WFG2 series available on-demand on Amazon Prime Video.
But The-Race.com was set up to cover real racing in addition to esports – not just esports!
So when real racing came back, it was no surprise to see that from a standing start that The Race became the go-to content provider for the super fans, the paddocks, and the industry.
In 2020 we had 62 million YouTube views, and subscribers for The Race channel enjoyed a 147 percent growth.
The-Race.com site was launched just as the sport was forced into its COVID hiatus but still enjoyed spectacular growth with rapidly accelerating stats for users and page views.
Despite being a 10-year-old brand, WTF1 has seen its socials grow dramatically – more than doubling the number of Twitter followers and hitting engagement rates as high as 39 percent on Instagram. WTF1 achieved its highest web traffic and merchandise sales in its history.
2021 will be bigger
We will create more great content, including our weekly F1 videos, WTF1's 'Internet reacts,' and loads of podcasts, including the cult "Bring Back V10's, and we will deliver more new innovative projects and, of course, launch the much-anticipated World's Fastest Gamer 3.
The Race Media has already helped many brands better engage with more motorsport fans. We'd love to talk to you about how we can help you virtually, for real, or both!
Cheers
DARREN COX
CEO, The Race Media Ltd