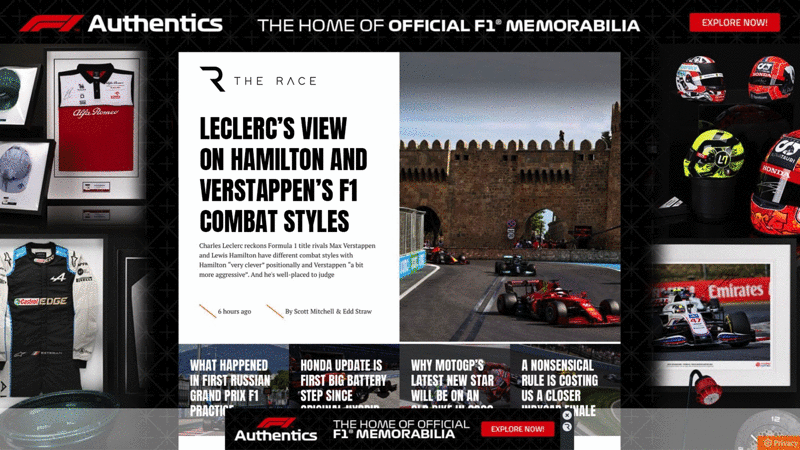 4.1 million impressions delivered to F1 Authentics
6.9 million reach and 260,000 engagements
25,000 new fans on Instagram for F1 Authentics
21 percent increase in purchase intention for F1 Authentics from the WTF1 and The Race campaign
LONDON, UK (Thursday, October 7, 2021) – The Memento Group's F1 Authentics became the first brand to take advantage of the new 'Weekend Takeover' activity from The Race Media group.
The offering allows brands to own the Grand Prix audience over a weekend by delivering a complete takeover of key assets from WTF1.com and the-race.com. This creative approach allowed F1 Authentics to reach 2.7 million F1 fans across the Russian Grand Prix weekend with 4.1 million impressions.
More than 200,000 fans engaged with the content on Instagram, which rewarded F1 Authentics with an incredible 25,000 new followers over the race event.
The takeover includes 100 percent of all ads on both websites, partnership with integrated readouts and calls to action on both brands' podcasts (nearly 200,000 downloads), social media shoutouts and calls to action, and a bespoke prize mechanic.
Factoring in the additional exposure via YouTube, an additional 1.1 million impressions were delivered for F1 Authentics via the campaign, while Twitter and Facebook posts across The Race Media channels added 1.5 million impressions for F1 Authentics.
As well as exposure and crucial brand awareness, The Race Media, also delivers valuable market insight for its partners. Over the course of the campaign, F1 Authentics recorded an increase of 16 percent in terms of brand awareness and 21 percent for purchase intention. These were ahead of expectations.
Memento Group's F1 Authentics is the official provider of Formula 1 memorabilia and reimagined sporting goods, offering both auction and buy-now products. It works directly with the F1 teams, drivers, suppliers, and partners to source official licensed products as well as re-engineering race-used car parts, giving them a new life as both functional and stunning household items and pieces of furniture.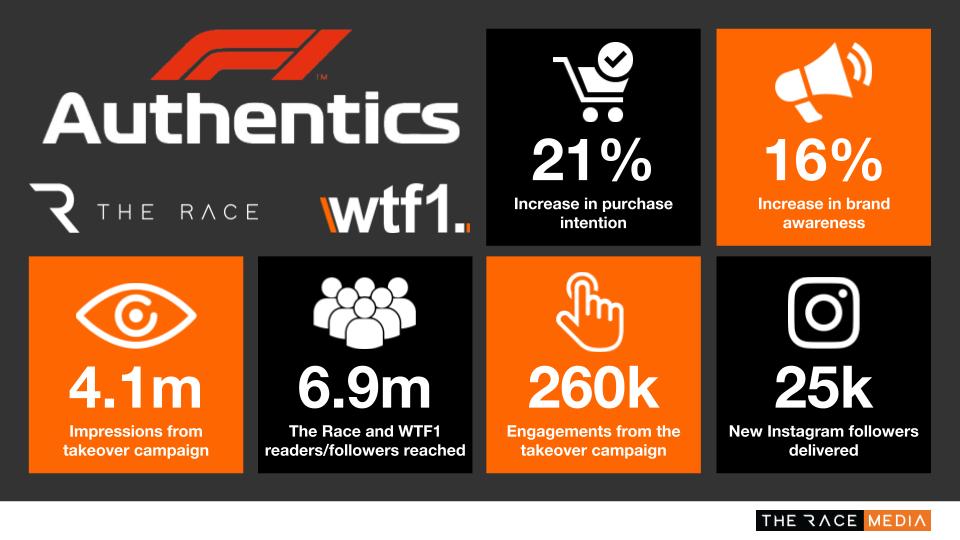 "The Race and WTF1 provided us with the perfect platform to reach Formula 1 fans of all ages and demographics. The Race Media group not only enabled us to reach across all these demographics – but the global reach of their audience is also massively impressive," Memento Group's founder and CEO Barry Gough said.
"Our takeover across both sites not only delivered F1 fans who know who we are and what we do, but drove sales for us across the past week and many fans are delving deeper into our sites as they start to take a look with an eye on the upcoming Christmas gift period."
The Race Media Limited brings together some of the finest content creators in motorsport to tell engaging and inspiring stories. The Race super serves the 'super fan' with expert analysis of Formula 1, MotoGP, Formula E, IndyCar and more. WTF1 speaks as the voice of the fan, not the sport – taking a sideways look at the world of F1, creating content that plays perfectly with the "Drive to Survive" generation of new fans.
With seven races to go, there are still a few opportunities for any brand to boost its KPIs during this most exciting of seasons.
"Pre and post-campaign audience research provided qualitative feedback that provided great insights into The Race 'Super Fan' and WTF1 'Drive to Survive' audiences. More than eight percent indicated they are prepared to spend £1000 on memorabilia," said The Race Media head of digital, Matt Witham.
"Delivering a consistent message and 100 percent share of voice across all The Race and WTF1 channels, fans were left in no doubt who F1 Authentics are and what they do. With Christmas and Black Friday sales looming – I think our partnership with F1 Authentics and the takeover concept worked exceptionally well."