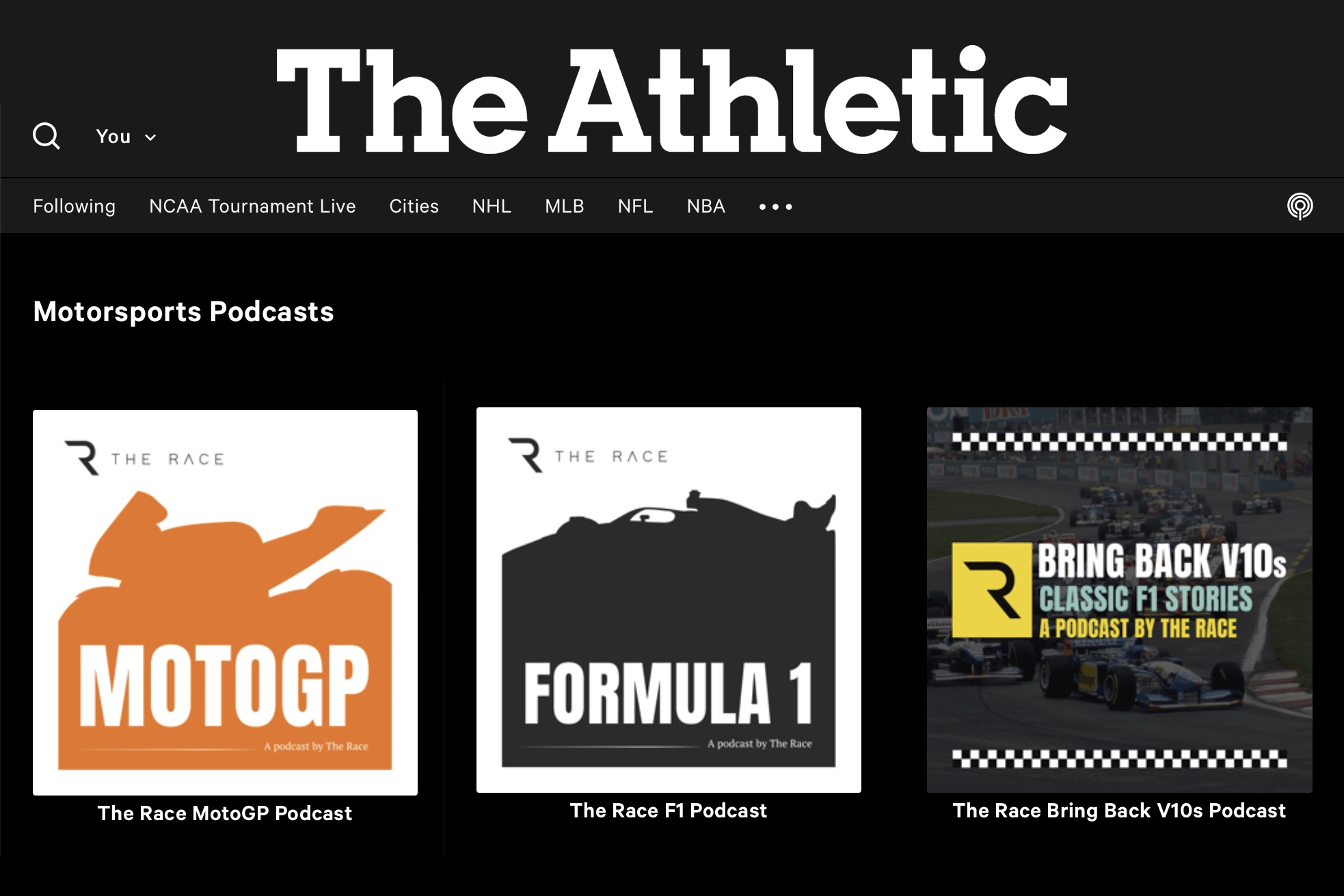 LONDON, UK (Wednesday, March 16) – The Race has joined forces with The Athletic to make its suite of motorsport-related podcasts available to a huge new audience of sports fans.
Since launching in February 2020, The Race has enjoyed spectacular growth in the podcasting space, with its range of motorsport-themed shows being downloaded over seven million times to date.
Now, all five of its flagship shows will be available on The Athletic's Podcast network for free as well as through all the established platforms such as Apple Music and Spotify.
The shows are:
The Race Formula 1 Podcast – hosted by Edd Straw and featuring expert contributions from The Race's stable of F1 journalists, examines every aspect of the latest breaking news and on-track action.
Bring Back V10s – hosted by Glenn Freeman together with special guests; this show delves into the rich history of the period spanning 1989-2005 – featuring legends such as Ayrton Senna and Alain Prost through to Michael Schumacher and Fernando Alonso.
The Race MotoGP Podcast – hosted by Toby Moody alongside Simon Patterson and Val Khorounzhiy this covers the premier class of two-wheel racing.
The Race Indycar Podcast – current active driver JR Hildebrand joins Jack Benyon and a host of special guests to tackle all the latest goings-on in America's leading single-seater series.
The Race Formula E Podcast – Andrew van de Burgt and Sam Smith host guests such as championship winners Nyck de Vries and Antonio Felix da Costa and paddock favourites Jack Nicholls and Dario Franchitti to keep tabs on the world of all-electric racing.
Andrew van de Burgt, Founder and COO of The Race Media, said: "I'm a huge fan of The Athletic and a consumer of almost all of its football output. I think the approach they take towards content is very similar to ours. I've been delighted by the success of our podcasts to date, and the opportunity to take our shows to a non-traditional motorsport audience is the opportunity I was looking for us to grow to the next level."
The Athletic has a huge podcasting audience thanks to its stellar output across football, NFL, NBA, and Major League Baseball plus college sports, and now it's expanding into the high-octane world of Formula 1 for the first time.
"We couldn't be more excited to partner with Andrew and his team at The Race," said Andrew Wasserman, Head of Audio at The Athletic.
"Their coverage of F1 and other motorsports is some of the most thoughtful and informed coverage out there, and we think their podcasts will fit perfectly alongside ours,"
Check out The Athletic podcasts at: https://theathletic.com/podcasts/motorsports/