25 million video views in February
Web traffic up 305 percent
More than 1.25 million podcast listens up 182 percent
WTF1 live stream more than 30 hours on YouTube
LONDON, UK (Wednesday, March 2, 2022) – The Race Media started the 2022 Formula 1 season at full throttle with new initiatives and new records for its industry-leading coverage.
Several new platforms allowed The Race Media to dominate the independent F1 media market with a suite of content. In total 288 million people engaged with either The Race or WTF1 in February via 43 videos, 31 podcasts, seven live streams, 453 news articles, 51 TikTok videos, and thousands of social media posts on Twitter, Facebook, and Instagram.
February was the biggest ever month by a significant margin for The Race Media, with dramatic increases in volume on each platform for both The Race and WTF1. Here are some highlights:
Dedicated launch videos for each team by The Race – 7.3 million views – double the number compared to 2021
The Race Hub Live launched for F1 testing – contributing to nearly 1.3 million web users – a 120 percent increase year on year
Significant ramp-up of podcast output – attracting 1.25 million podcast listens – up 182 percent
Full commitment to WTF1 'Watchalong' live streams driving a 400 percent increase in video views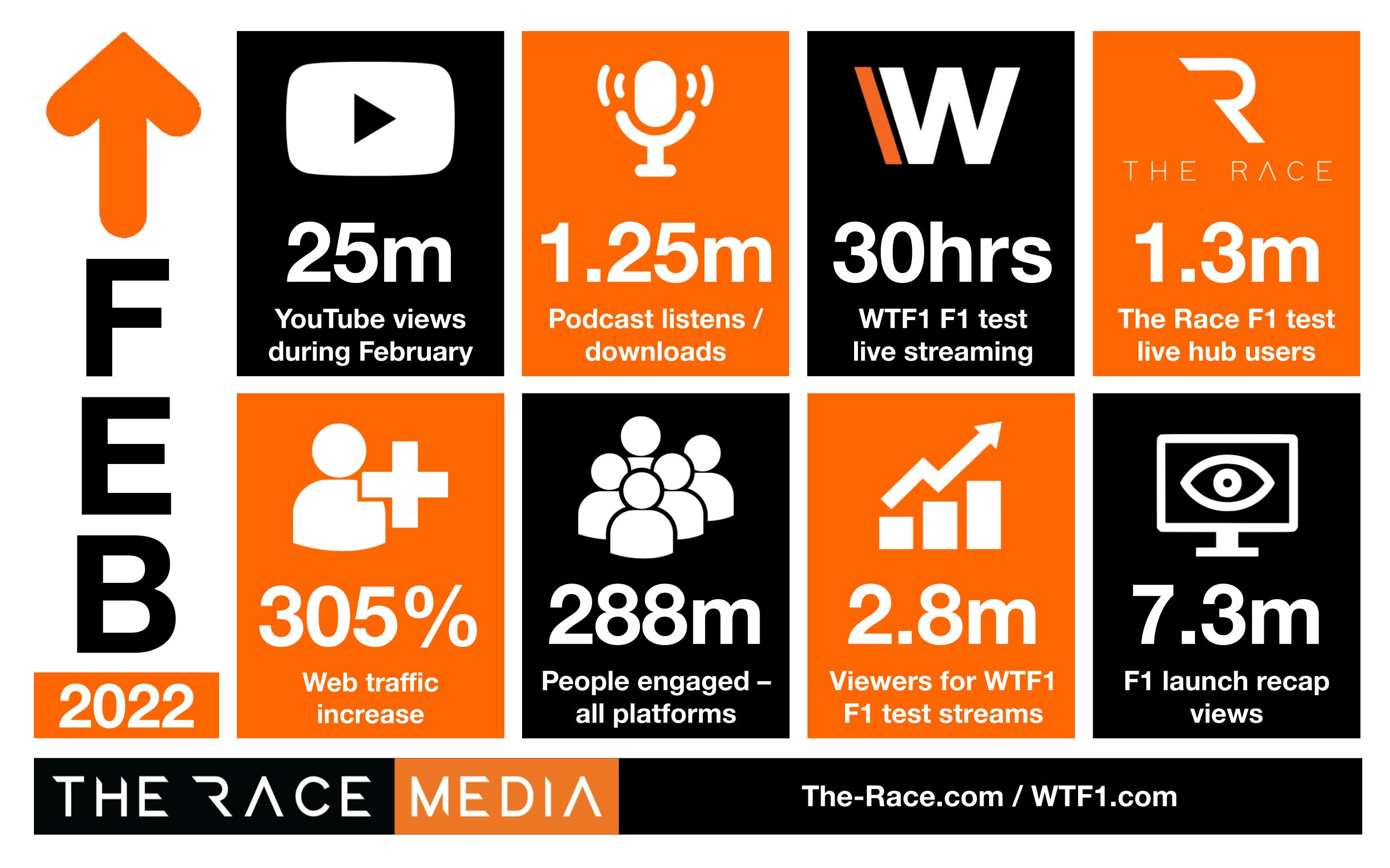 "We've continued our unwavering commitment to delivering unprecedented levels of content across all channels for not only Formula 1 – but INDYCAR, Formula E, MotoGP, and more," The Race Media COO and co-founder, Andrew van de Burgt said.
"When we launched two years ago, we saw an opportunity in the motorsport industry to provide top quality coverage of the world's best championships across multiple platforms. This not only delivers for our fans and readers but also for our advertising partners who are using the platform to reach this passionate audience.
"Week by week, month by month, and year by year – our numbers across all platforms continue to soar. Launching a completely new brand in this market was an enormous challenge, but fans around the world now know who we are, what great coverage we provide, and they are helping spread the word."
WTF1's live "watchalong" coverage of F1 testing from Barcelona attracted more than 2.8 million viewers over the three days.
"We created more than 30 hours of live coverage of the Barcelona test with passionate fans like us reacting to all the on-track news with our 'watchalongs", Getting 2.8 million views for these streams was just incredible," WTF1 founder Tom Bellingham said.
"We were able to answer fan's questions and interact with The Race journalists on-site – providing coverage which more than made up for the fact the tests were not live-streamed by Formula 1 this year.
"Even our TikTok output has completely taken off in February – beating our previous best month by four million views!"