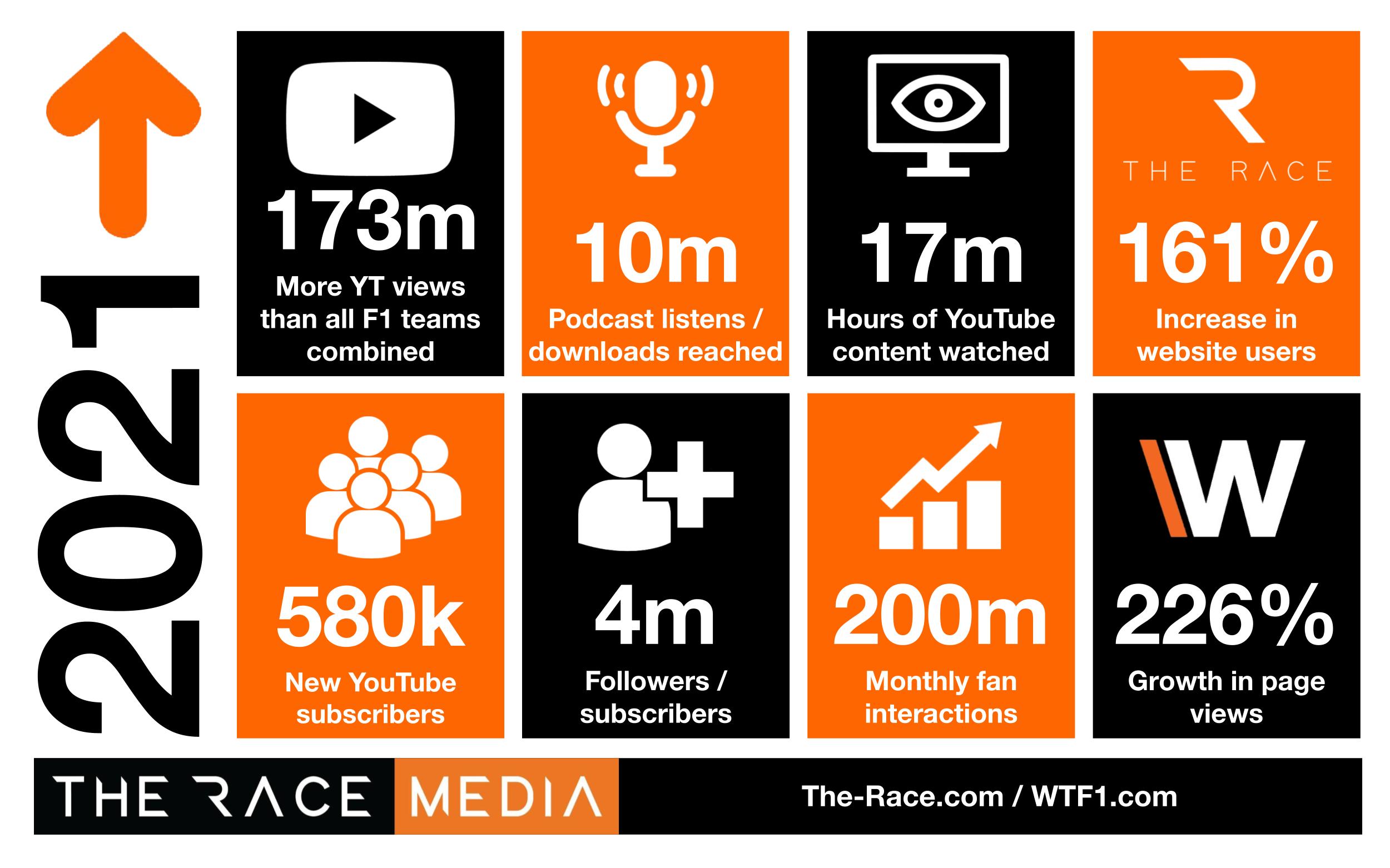 Four million social media followers/subscribers reached in 2021
173 million YouTube views recorded – more than every F1 team combined
580k new fans subscribe to The Race Media YouTube channels 
10m podcast listen milestone reached
LONDON, UK (Tuesday, January 4, 2020) – The Race Media completed 2021 with more dominant "full throttle" growth and entered 2022 with even bigger numbers across all platforms.
Across The Race and WTF1 YouTube channels, The Race Media added more than 580,000 subscribers in 2021 and more than 1 million over the past two years.
Both channels are on schedule to achieve more than 1 million subscribers each during 2022.
Across both YouTube channels, The Race and WTF1 collected a total of 173 million views in 2021 – more YouTube views than every Formula 1 team combined.
The Race super served the 'super fan' with expert analysis of the remarkable 2021 Formula 1 season and controversial final. WTF1 spoke as the fan's voice as it took a sideways look at the world of F1, creating content that plays perfectly with the "Drive to Survive" generation of new fans.
Both the-race.com and WTF1.com had record years. The Race had an increase in users of 161 percent and 133 percent growth in the number of page views. WTF1 users increased 119 percent and had a massive 226 percent growth in page views.
Those numbers continued to soar into the new year. On January 1, the Race had three times as many users compared to the same day last year. WTF1 recorded a user growth of 166 percent and four times as many page views compared to 2021.
"We have had two years of remarkable growth which is accelerating every month," The Race Media Co-founder and CEO, Darren Cox, said.
"Millions of fans are reading our sites every month, and our YouTube numbers are just remarkable. The Race and WTF1 channels have clearly established themselves as the video home for international motorsport fans.
"Our viewers watched a combined 17 million hours of content last year. That equates to consuming 1,946 years of video – that is simply remarkable."
It is not just The Race Media's website and video platforms that are setting records – the group also passed the 10 million podcast listens/downloads mark in 2021 and recorded industry-leading social media engagement numbers across its platforms – which have attracted nearly four million followers/subscribers and recorded nearly 200 million interactions each month.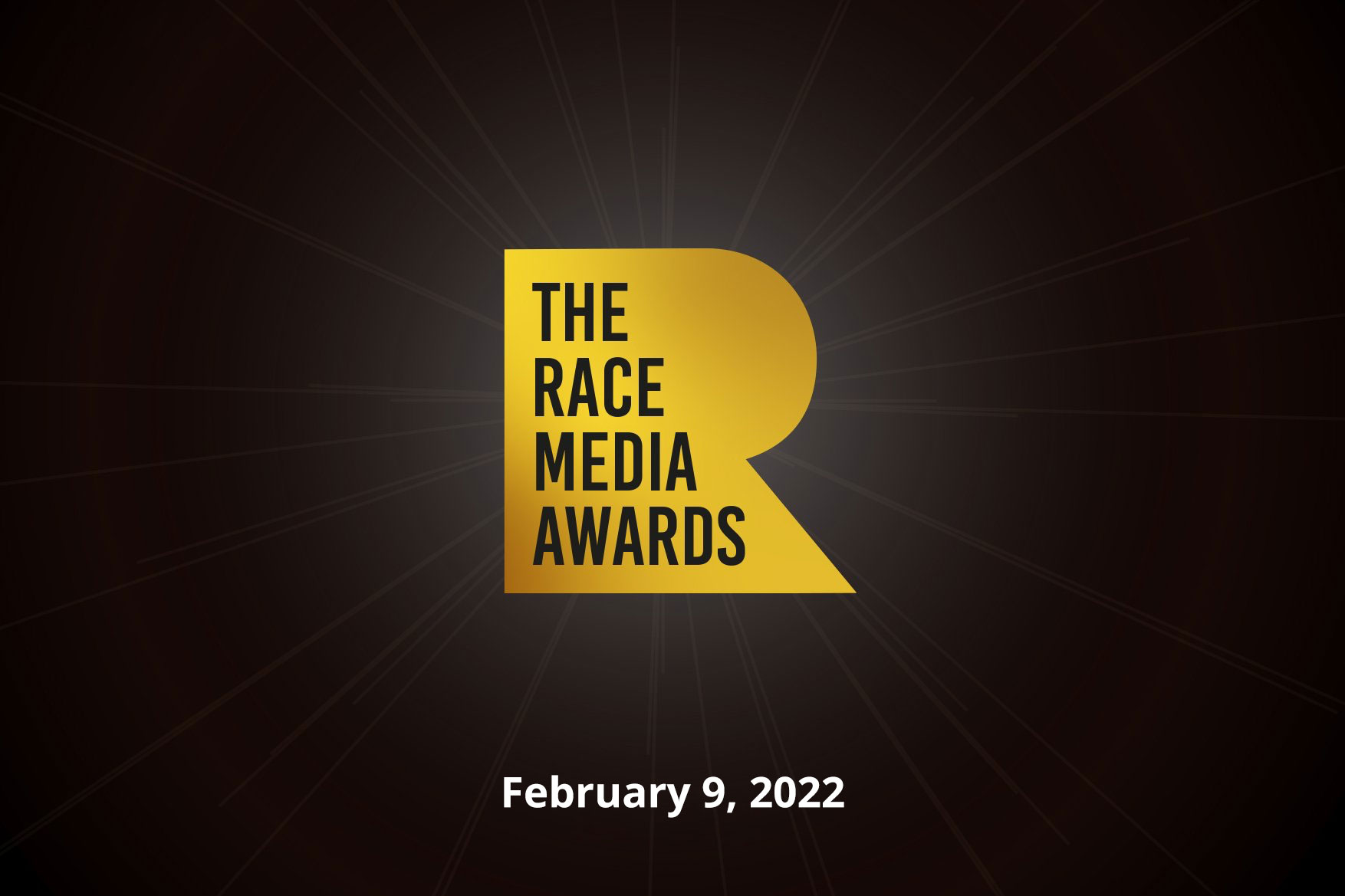 As an industry leader, The Race Media Group also launched the inaugural The Race Media Awards in 2021. The awards recognise creative excellence, genuine impact, and global influence in PR and marketing in the motorsports industry.
The inaugural award winners are scheduled to be announced on February 9, 2022, at The Steel Yards in London.
"The results we have achieved are very rewarding, and we're thrilled to keep welcoming more and more readers, viewers and followers to The Race and WTF1," The Race Media Co-founder and COO Andrew van de Burgt said.
"Our goal is to continue to bring together the finest collection of journalists and creators to tell remarkable stories throughout the year. We're not about to rest on our laurels – last year, we added new channels like the WTF1 TikTok channel, which quickly attracted nearly 140,000 followers.
"Our readers, viewers, and followers are our key focus – that is why so many great brands partnered with us as The Race and WTF1 is the place where F1 and motorsport fans are truly passionately engaged."