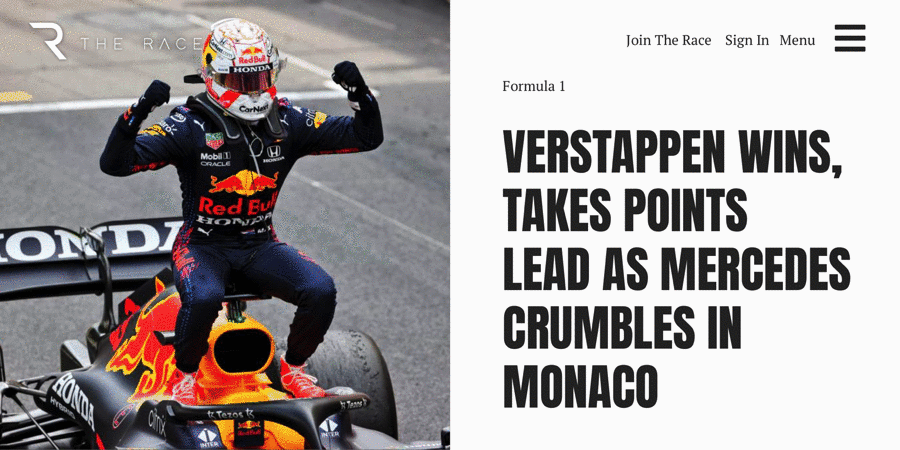 It is a month of the year where legends are born, and two of the big three "Triple Crown" races are scheduled each year – this year's month of May also became legendary for The Race Media's titles the-race.com and WTF1.com.
Last month we wrote a lot about Max Verstappen winning the Monaco Grand Prix and Helio Castroneves elevating his IndyCar status to legendary levels by taking his fourth Indianapolis 500 win.
Both racers were the subject of many stories, videos, podcasts, and social media posts which drove record numbers across our platforms.
The-Race.com website set a new record number of page views in May – a 407 percent year-on-year increase compared to 2020.
We also set records on both Twitter and Instagram with an all-time high number of likes for the respective @wearetherace channels. Our Instagram channel number of likes for the month of May tripled in 2021 compared to last year.
The team at WTF1 has also been taking home the winner's trophies and setting new "track records" across its channels.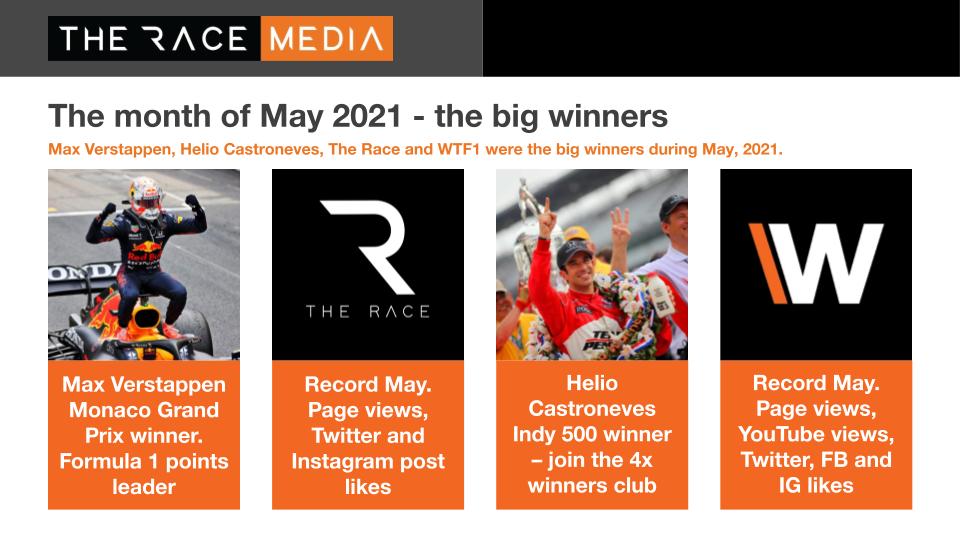 Since The Race Media took over the 10-year-old media brand in early 2020, WTF1 has kicked off a massive growth period. Speaking as the voice of the fan, not the sport – its irreverent and light-hearted look at the world of Formula 1 has been embraced by the "Drive to Survive" Netflix generation of Grand Prix fans.
This past month WTF1 has
Set a new record for monthly page views (four consecutive weeks of new seven-day records)
Record monthly YouTube views and impressions
Record monthly Facebook likes
Record monthly Instagram Likes
Record monthly Twitter likes
It's not only our established channels that are setting the pace. WTF1 has also expanded into new platforms. Our WTF1 TikTok account set a new high for monthly views in May, while the recently launched WTF1 Clips YouTube channel also set record numbers for views and impressions.
But what does this mean for you? These impressive figures are driving new opportunities for brands to reach fans across all age groups.
Our WTF1 audience skews younger. The-Race.com skews richer. The spread across both media brands gives The Race Media outlets access to all F1 and motorsport fans – regardless of their age.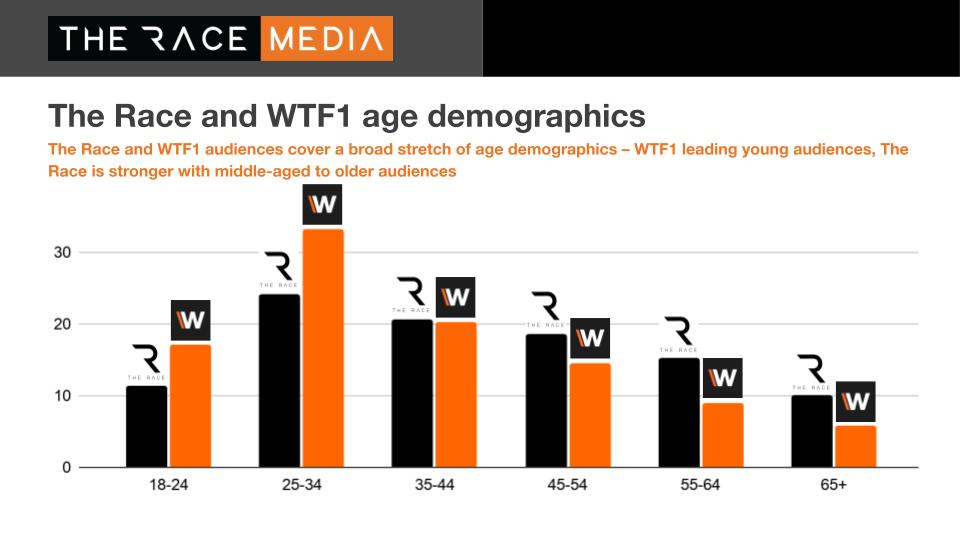 Brands are taking advantage of these opportunities. Consumer electronics brand BenQ has recently become the official Screen Partner of WTF1, while Daytona Karting is the official Karting partner of WTF1.
The Race has harnessed the deep-rooted engagement in video and podcast of its super-fan audience with a number of Formula 1 official partners; F1 Authentics, The Home of Official F1 memorabilia; F1TV, The live streaming and second screen App as well, and F1 Experiences The official experience, hospitality & travel programme to Formula 1.
The motorsport industry as a whole is rebounding strongly. Crowds are starting to return, TV numbers are on the rise (the Indy 500 NBC broadcast hit a five-year high last week) and the level of competition across F1, IndyCar, MotoGP, Formula E has been exceptional.
We're very excited about the months ahead and the massive potential for even more growth. Come and join us on the grid and get ready for an exciting ride!
Darren Cox
The Race Media Ltd CEO